Idents and VFX
14 November 2014 - Comments
This week has been epic. I've made a few changes to my project approach, started the destruction VFX course and even managed to knock out an ident. Sweet.
Motion Graphics Re-focus
Whilst reflecting on last weeks work, I realised that I have been neglecting the motion graphics side of things. So, in an effort to stop myself from getting too rusty and keep pushing my skills, I decided that I'll try to do a day or two of mograph a week.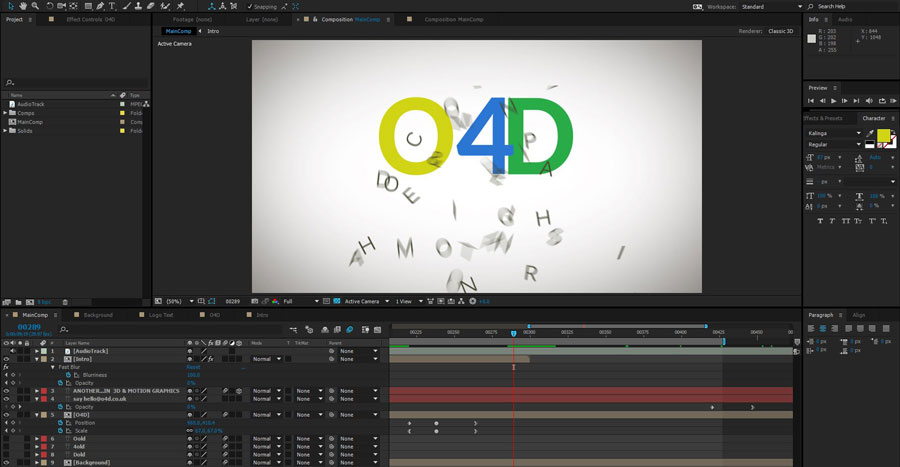 I've been pretty embarassed with the ropey showreel holding video that I have had up on the site for a while now. So I decided to create an O4D ident to stand in it's place. It has been a while since I've done much work in After Effects, so I had to remind myself of a few hotkeys! But it is a great piece of software and I always feel very productive in it. I'm really pleased with the result, but I'll let you be the judges of it!



The Visual Story
This week I've also found some time to do a bit of reading. The Visual Story has been a great read so far. Its simple layout and clear communication make it very digestible.
If what I've read so far is anything to go by, I think it will prove a useful read and really enhance my understand of visual storytelling.
Feature Film Destruction in Maya
This week I started the GCWorkshop Feature Film Destruction in Maya course, which I'll be doing for the next couple of months.
It has been a slow start, as there were a few issues getting the temporary licenses for FractureFX and FumeFX. But the licenses are here now and I installed the software today. So it should be all guns blazing from here on in.
I'm pretty excited, I think it's going to be an epic course.
Projects
It's been a hectic week, but I managed to shoot some more footage for one project, which I've still yet to pre-process and stabilize to see what shape it's in. This should enable me to push through and complete this project shortly which would be excellent.
The ad-based concept project has been a little on the back-burner, but I have signed off on the fluid sim without having to resort to Realflow, and also started the character modeling. Only the modeling, rigging and animation left to do then, oh and that other bit of dynamics! (Hmm, note to self, next time think through the scope before commiting to a project.)
Maya 2015 Viewport 2.0 has been somewhat fickle this week, as demonstrated below:
But otherwise, it's been a great week.
---
comments powered by

Disqus